About City Fields
About Us
The City Fields Foundation was established in 2006 to address the chronic shortage of playfields in San Francisco and help the city equitably provide sports facilities for youth and adult athletic leagues, school teams and physical education classes, and informal neighborhood play.


The foundation was started by three brothers, Bob, Bill and John Fisher, who grew up playing sports in San Francisco parks and wanted to make sure other city kids enjoy the same opportunities. The lack of available athletic fields and poor condition of many of the existing fields inspired the brothers to find a solution to increase play capacity at the city's playing fields and recreation facilities largely used by families and kids.


After visiting parks, speaking with members of the community and discussing their own experiences as parents whose kids played sports in San Francisco, it became clear that the best way to increase play capacity was to renovate existing fields with the new generation of artificial turf and help update the fields reservation system — two long-time goals of the Recreation and Park Department.

In 2006, the City Fields Foundation and the City of San Francisco established the Playfields Initiative, a public-private partnership to remedy the city's ongoing athletic field deficit through synthetic turf renovations, light installations and reorganization of the Recreation and Park Department's antiquated and inefficient Permits and Reservations system. That same year, the partnership renovated two underused and neglected athletic fields, Garfield Park and Silver Terrace with high-quality synthetic turf, lights, new fencing and other park amenities.


These renovations represented the first stage of a multi-year collaboration between the City Fields Foundation and The City of San Francisco to improve playing fields for San Francisco's kids and their families. In 2007-2008, we went on to renovate South Sunset Playground and the Crocker Amazon athletic fields with synthetic turf and lights, and we added new lights to the existing artificial turf field at Franklin Square Park. In 2010, we renovated Kimbell Playground's sports field and, in 2012, replaced Mission Playground's asphalt soccer pitch with a new synthetic turf field.


City Fields and Recreation and Parks staff have also collaborated closely to reorganize and improve permits and reservations in order to increase efficiency and create a more fair, open and equitable system. Working together, the partnership has established an inventory of fields, conducted extensive public outreach, analyzed supply and demand, reorganized and centralized the permitting process, improved transparency and, most important, developed and implemented CLASS - Recreation and Parks' new online permitting system.


Between field renovations and the permit system reorganization, the Playfields Initiative has added more than 80,000 hours of annual play time to Recreation and Parks athletic system thus far. Even more, we are on track for making sure that the children of San Francisco always have a place to play!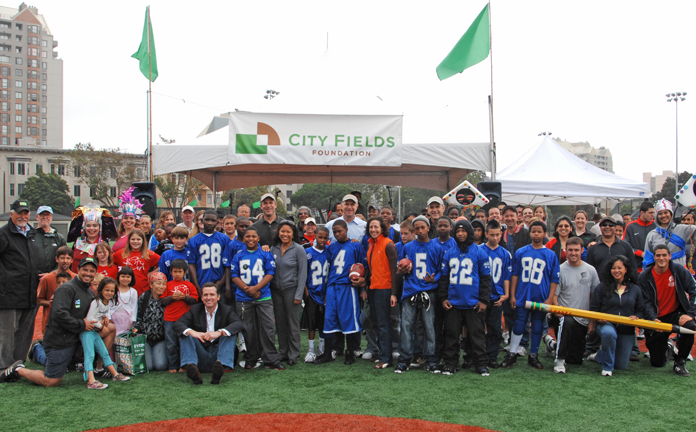 The City Fields Team, partners and friends at the Grand Opening Celebration for the Kimbell Playfield (September 2010) Photo credit: Michael Emery
The Team
Bob Fisher is a City Fields Foundation Trustee and serves on the Board of Directors for Gap Inc. A dedicated environmentalist, Bob sits on the board of Conservation International and co-founded the Pisces Foundation. He is President of the Board for the San Francisco Museum of Modern Art. In 2009, Bob was appointed to the Strategic Growth Council for the state of California. He was formerly a Trustee of the Golden Gate National Parks Conservancy and is now on the Honorary Board of Trustees of the Natural Resources Defense Council (NRDC).

Bill Fisher is a City Fields Foundation Trustee and serves on the Board of Directors for Gap Inc. He is the principal of Manzanita Capital, a private equity investment firm, and is on the Board of several European investment companies. Bill also serves as the Vice Chair of the Exploratorium Board, and the Stanford University Graduate School of Business Advisory Council. He loves to bike in the Marin Headlands.

John Fisher is a City Fields Foundation Trustee, President of Pisces Inc., and Co-Founder of Sansome Partners. In addition to serving on a number of corporate boards, he is Board Chairman of the KIPP Foundation, and Co-Chair of the Charter School Growth Fund. He helped found and serves on the board of Silicon Schools Fund. He is a Special Advisor to the Doris and Donald Fisher Fund. He holds an AB in Politics from Princeton University and an MBA from Stanford University Graduate School of Business.
Susan Hirsch directs the City Fields Foundation and is president of Hirsch and Associates, LLC, a philanthropic advisory firm. A former competitive tennis, lacrosse, squash and field hockey player, Susan raised two soccer-playing children in San Francisco and has long been involved in advocating on behalf of kids and families. She serves on the board of the San Francisco School Alliance.
Phil Ginsburg is General Manager of the San Francisco Recreation & Park Department that administers more than 220 parks, playgrounds, and open spaces, covering more than 4,100 acres. Since 2009, Ginsburg has navigated historic budget challenges and has fought to protect the Department's core mission of providing enriching recreational opportunities and clean, safe, fun parks for San Francisco's residents and visitors to enjoy. In 2012, the city's parks were named the top park system by the Trust for Public Land. Ginsburg has more than a decade of experience in San Francisco city government, having served as Deputy City Attorney, the head of the City's Department of Human Resources, and as Chief of Staff to former-Mayor Gavin Newsom. Ginsburg was awarded San Francisco's Public Managerial Excellence Award in 2003, and America SCORES honored him with its Legacy Award in 2013. Ginsburg is also currently a member of the San Francisco Urban Forestry Council.
Dan Mauer is the Project Manager for the San Francisco Recreation and Parks Capital Improvement Division where he is directly involved in renovating and improving the City's park system. When he isn't sitting behind his office computer or meeting contractors in the field, he can usually find him chasing his three boys around the baseball or soccer fields. Dan is actively involved with children in various forms of athletics and mentoring programs.
Patrick Hannan is the Director of Communications, Planning and Programs for the City Fields Foundation. He is an avid reader, hiker and fisherman. Patrick is a former trustee of the San Francisco Parks Trust and the former chair of the city's Parks, Recreation and Open Space Advisory Committee. He lives in San Francisco's Richmond District with his wife and two kids.
Scott Emblidge provides legal counsel to the City Fields Foundation. A former San Francisco Deputy City Attorney (where he served as general counsel to the Recreation and Park Department), Scott is a founding partner at Moscone Emblidge Sater & Otis LLP, a leading law firm in the City. He also serves as a mediator for the United States District Court, Northern District of California and for the California Court of Appeal, First Appellate District. Scott received his law degree, cum laude, from Harvard Law School and a B.A. in Political Science, with Highest Honors, from California State University at Fullerton. When he's not buried in the law, Scott likes to watch his youngest son play football and lacrosse (on turf fields) throughout the Bay Area.
Mack5 is the project management, construction management and cost planning consulting firm for the renovations of Kimbell Playground, Mission Playground, Minnie Lovie and Beach Chalet. Mack5 is a Bay Area firm with extensive experience planning and managing recreation areas for local municipalities and nonprofits.
Verde Design specializes in landscape design for community outdoor spaces, such as athletic fields, parks and sports stadiums, especially for local Bay Area venues. Verde Design's landscape design and civil engineering work is featured in the playfield renovations at Kimbell Playground, Mission Playground, Minnie and Lovie and Beach Chalet.